11th International Conference on the Environmental Effects of Nanoparticles and Nanomaterials (ICEENN 2016)
August 14 - 18, 2016
Colorado School of Mines, Golden, CO
This year we are excited to begin the second decade of this highly successful conference series which started in 2006 (London), organized by Richard Handy. As one of the leading international conferences on environmental nanoscience, the 11th ICEENN will bring together researchers, regulators and industry to discuss recent advances in our understanding of both the nature of nanomaterials and the key issues relating to maintaining the economic and social benefits of nanotechnology.
NanoImpact Special Issue

Presenters are encouraged to consider submitting a paper to a special issue of NanoImpact to be published in spring 2017. Those interested should contact the conference organizers to learn specific details of submission. Author guidelines for NanoImpact can be found at: http://www.journals.elsevier.com/nanoimpact/
Like and follow us on Facebook! Connect with other conference attendees and plan carpools, room sharing, or other social activities around ICEENN 2016!
Sessions are planned to cover topics including, but not limited to:
Advancements in nanomaterial analysis methods
Surface chemistry of nanomaterials in complex matrices
Release from consumer products and environmental fate
In vivo and in vitro toxicology of nanomaterials
Applications of nanomaterials in environment and health
Environmental issues of production-scale nanotech
Social and regulatory considerations of nanotechnology
Role of natural nanomaterials on contaminant behavior
Student grants are available for partial or full reimbursement of conference registration! Please visit our Student Grants page for more information. Students who submit an abstract will automatically be considered for reimbursement.
Learn from the Experts!
Preconference 2-day hands-on workshop (August 13 & 14)
A workshop on characterization of nanoparticles will focus on single particle ICP-MS and asymmetrical flow & centrifugal FFF. Attendees will get hands-on experience in data collection and processing and will work with industry and academics experts. Hands on demonstrations by Cytovia and Malvern will be provided to workshop attendees and early arrivals to the conference from 2-4 on Sunday August 14th.
Social Program

The conference schedule provides the choice of two mid-conference afternoon outings. Bus transportation will be provided to and from both the Clear Creek Rafting Company in Idaho Springs and alternatively to Mount Galbraith Park for hiking. During the week coffee breaks, lunches, and most dinners are included in the registration fee. An unforgettable dinner in an American Old West setting (TheFort.com) is planned for Tuesday evening. An exciting raffle is planned for the closing reception.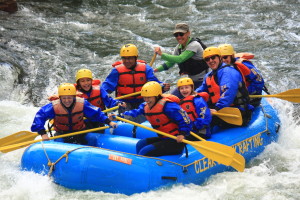 The city of Golden offers numerous activities for accompanying spouses and children within walking distance of the conference venue and the downtown Golden accommodations.
August is also high tourist season in Colorado. You are highly encouraged to book your lodging as soon as possible to avoid lack of available hotel rooms near Golden!